Five Reasons to Hire a Planner
1:  Many brides are "do-it-yourselfers" which can be very cost efficient.  However, your planner will ensure that your arrangements (centerpieces, favors, etc.) are displayed exactly how you want them and where you want them.
2:  Many couples are very involved in the planning process.  The average couple does not realize or consider that they need a planner until 4 or 5 months before the big day.  Your planner will bring all of your accomplishments together to complete the puzzle.  From finalizing pick up and delivery times, ceremony arrival times, informing attendants of their duties, an experienced planner will make this day a dream come true.
3:  In the beginning of your engagement, friends and relatives are often excited to help plan this magical event.  However, many friends and family would much rather enjoy the ceremony and reception as a guest and not worry about day-of planning details.
4:  Wedding planners are experienced professionals.  It is no different then entrusting your finances with an accountant or building a relationship with your realtor when buying or selling a home.  We have contacts in the industry that can help save our clients time and money.
5:  We love planning!  Every wedding or event is special and planners look forward to make your event memorable and fabulous.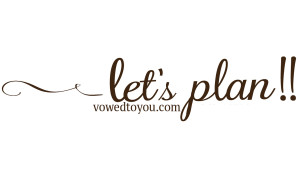 "What a wonder and joy to work with….I would have been lost without Kyna. She deserves 10 stars" – Mr. & Mrs. Dunn